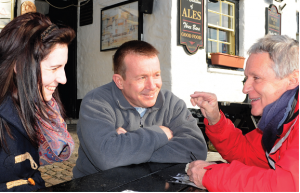 KickStart Training is an 'on-the-job' street evangelism training programme that helps people like you learn to share your faith in a simple yet powerful way. In the same way that it is impossible to teach somebody to drive solely in a classroom situation, it is my belief that personal street evangelism can only be be effectively taught on the streets. My intention is to seek to help Christians gain confidence in telling their own story of how they have come to know God.
I've developed this training from over 30 years of experience, finding out what works and what doesn't. It's designed to get you started talking to people on the streets and in pubs and clubs.
A typical training programme looks like this:
VISION SUNDAY: Lindsay shares the vision with the whole church.
MONDAY: A minimum of four church members attend an initial classroom style training session.
TUESDAY TO FRIDAY NIGHTS: Lindsay takes at least one person with him to talk to people on the streets and in the pubs, etc.
SATURDAY NIGHT: The whole team go out on the streets.
REPORT BACK SUNDAY: The team share their experiences in the morning service.
Doing this training will help you:
Learn how to start up conversations.
Learn how to share your personal story.
Lead people to find God for themselves.
Set up a street evangelism team.
Increase your personal confidence.
KickStart street evangelism training operates on a 'faith basis'. That means there's no charge. What I'm most passionate about is helping people like you to be able to share your faith effectively without you having to worry about how much it costs. Having said that, churches I help usually make a donation to help cover my costs. If you wanted to help KickStart by sponsoring me or by regularly praying for me then feel free to get in touch through my Contact Me page.
Here's what other church leaders have said about this training…
"If you want a 'kickstart' into evangelism, just as his ministry describes, then Lindsay's your man. I'm always encouraged by his passion for Jesus and the ability to meet and share the Gospel with anyone, in any place, just where they are. Lindsay has a powerful testimony and relies entirely on Jesus as he moves in the gifts of the Spirit to share God's love. Friendly, outgoing and open, he shows you how easy it is to evangelise and present the amazing good news we have in our hearts. He's an encourager, builder of faith and a great guy."
Ade Marks (Grapevine Community Church, Illogan)
"Lindsay Hamon is one of the most courageous street preachers we have ever met – he wades in anywhere – gypsy camps, brothels, trouble spots in other countries, and somehow the Holy Spirit in him, touches people's hearts. We have walked and prayed together for 20 years and he never fails to share his love for Jesus, wherever he goes, and in practical ways too, even when he can't speak the language! He's had hardened Russian soldiers on their knees, and softened the hearts of German prostitutes and French police, who have all warmed to him.  This man is a 'National Treasure' to the church – we love him – but be prepared for radical action – he may take you where you don't want to go!"
John & Yvonne Pressdee (Green Street Green Baptist Church, Kent)
"Having KickStart to serve the Church in Wareham was a great blessing. It helped Christians work in evangelism and brought blessings on the town especially, on those who received prayer. It reinforced the Great Commission to the Church community and opened up opportunities for relationships with the retailers and landlords of the pubs. I very much appreciated Lindsay's gentle, humble and humorous way in which he approached the training sessions on outreach. We intend to make kick start a regular activity."
Paul Shepherd (Purbeck Gateway Church, Wareham)