WOLVERHAMPTON TO MANCHESTER CROSS WALK
Although I was suffering with the usual Chest trouble l decided to have a go starting the walk and to my amazement found that the illness supernaturally lifted as soon as l began sharing our Jesus with the various homeless guys in Wolverhampton town centre. The cynics would attribute this to something psychological. It wasn't. I have never experienced such an instant personal miracle before.
I was accompanied that day by Judy Ayrs, a wonderful woman, full of Jesus who had been homeless herself prior to meeting Jesus. She had such love for those we met and even went off to buy one of the guys new socks. Just as we left the town centre an Asian girl prayed to accept Jesus. What sincerity as she gave her life to following the Lord.
"Young Man on a mission"
It seemed that everyday there would be somebody who was ready to give their life to the Lord. While on the open road, having seen no one for hours l was aware of a figure ambling towards me. "This man has a mission" ,came the thought as he came close. He was a 17year old and so open to receiving Jesus I thought he was already born again. It was beautiful listening to his prayer to commit his life. I questioned him about my word about mission, not being sure if this was a word from God or just a random thought. "I am a brake dancer ",he explained enthusiastically, "l have always wanted to help kids from a bad background by teaching them to brake dance"! Wow, maybe now he will use this mission to lead young people to Jesus as well!
"It's all happening in Stoke"
Just as l entered Stoke l met two teenagers, one of whom understood the gospel immediately and began finishing my sentences off as the Holy Spirit revealed to him the truth . This is something that l have noticed before with those who are open to God. It wasn't long before he was praying to give his heart to Jesus. I was aware of the lostness in the eyes of his mate who also prayed to receive Jesus.
I was so excited carrying the cross through some of the deprived areas of the town. I stopped off at the numerous tattoo artist's shops. I love talking with these people who are often aware of the battle between good and evil, much of their art is do with crosses or demon type imagery. It is the same with Barber shops, they are a great place to do a short preach as everyone wants to know why l am carrying a massive cross.
It appears that half the world lives in Stoke, an evangelist's paradise! I love Muslim folk and often find them so happy for me to pray for them and tell them the message of the cross . In fact this is the case with Asians in general. If they ask why l am carrying the cross, l tell them that it is a sign of how much God loves them. I tell them that l am on a mission to pray with every wonderful Hindu (or Muslim or Seikh) family in Stoke or wherever l am. I unashamedly tell them that Jesus loves them so much. It is amazing to witness how open they are to let me tell them the gospel after praying for them. Love conquers and l often find that l leave with warm hugs, if not eyes filled with tears!
God is at work in Stoke and l was privileged to visit the Beacon House of Prayer where so much prayer has gone up for the city. At the end of the day we met Iranians who were so open to the gospel and local Christians urged them to go to the central Anglican Church where , I understand , some 200 lranians are now attending .
In Congleton l was given hospitality by Simon Edwards who helps leads a work with ex prisoners who have found faith. What a privilege to to see a whole room full of guys whose lives have been dramatically changed by Jesus.
Macclesfield Football Supporters
You can't walk by a pub full of half drunk football supporters without the cross creating a reaction. If you can take the jeering and humour on the chin it's worth staying. Sure enough guys were becoming serious and deep hurts were surfacing about the pain in their lives. One very lost and angry guy stormed off shouting that there was no God and there was no hope for him.However his mate stayed and gradually understood the gospel. His love for his girlfriend had delivered him from drug abuse and criminality and he could see that l was saying that Jesus could do exactly the same in his life. Jesus was there outside the pub and a new peace and authority could be felt.
Stockport
Was able to link up with some old friends; Rob White former Director of British Youth for Christ and Dale and Theresa Sturgess. Theresa and l witnessed a young man pray to receive Jesus by a lake where he was fishing. He was amazed to meet us as he had only that morning started to wonder if there was a God.
Manchester
One middle age man cycled by and then doubled back intrigued to find out about the cross. A sincere Catholic, he was so open and so ready to pray the sinners prayer. He works as a fireman and has kept in touch with me. He has asked that l txt him the sinners prayer so that he can pray it everyday. Am hoping he will be able to find a real alive fellowship and have sought to link him up with one.
Even though Manchester knows deprivation l found an excitement in the air. There is so much activity of Jesus going on, alive churches seeking to reach out on the streets. I found the Asian people to be so respectful and happy to receive prayer and love. I could have ended up moving to the "Curry Mile", l loved it so much. We prayed for so many from different faiths and backgrounds but with an openness to the Spirit. If Jesus does miracles amongst these people l can see that the Kingdom of God would go forward so quickly amongst the Muslims, Sikhs and Hindus. In contrast l found an indifference and even arrogance in the spirit of the many students who were spilling out of the University at that time of day. How the Western mind needs to humble itself before it can receive from God. However, I am excited at how God is working so powerfully in Manchester and felt compelled to pray with more fervour for the city, especially in the light of the bomb attack that occurred weeks after the walk.
ANGLESEY
Carrying the cross with my Welsh mate Emyr and a dear American couple, Kieth and Nicole Wheeler ( Kieth has carried the cross in some 200 countries) it was so meaningful walking through the area where l was born. One old Christian lady remembered me as a toddler! On most days we had the chance to pray with someone to accept Jesus. Even on the rainiest day there were guys on route who needed prayer. We linked up with fellowships in Beaumaris and Holyhead as well as other Godly people who are seeking to see God moving again in power. My Grandmother remembered the Welsh revival . Kieth, Nicole and l spent sometime witnessing outside a local Rock Festival. On another occasion we worked with Gus a New Zealander who pastors Holyhead Elim church. Both Gus and l were amazed to witness the presence of God's Spirit in a cheap booze shop as we prayed with some customers who had come in seeking a different spirit.
LONDON TO CANTERBURY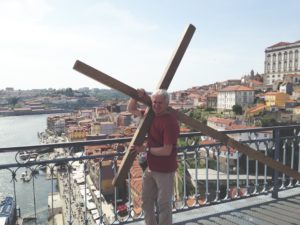 Walking again with my old friends John and Yvonne Pressdee it was thrilling to go down the Old Kent Road again, praying and witnessing to whoever would stop to listen. Had many chances to stop off at the various Barber shops some of whom had a West Indian feel, others were African , Turkish or Eastern European. All were intrigued by the cross and was often able to quickly pray for all the customers and staff and include an explanation of the message of the cross. No antagonism, just laughter , joy and even solemn respect! I said that we were walking to pray for the UK to come back to God. Most responded by saying that we need to return to God, even those from other religions agreed that we needed God again to change out country. One powerful memory is praying with two lads from Manchester to receive Jesus on the very spot where earlier this year members of the public had been run over by terrorists. The lads had lost friends in the Manchester bombing and were aware of the need to get their lives right with God.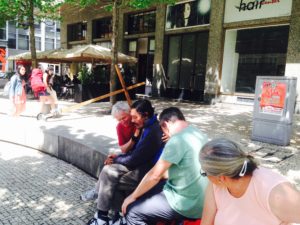 On another occasion a Scottish Christian joined the walk and testified in one of our mini barber shop preaches to how God literally pulled him back from jumping from a cliff to commit suicide. I was so amazed by his testimony that we prayed together that the next person that we should meet would be someone suicidal. What would be the odds of that happening? That is exactly what happened and my Scottish friend was able to pray with the man who was under a mental health section as he had recently tried to end his life. I have recently met so many people whose testimony is of how God met them right at the point of suicide. I had to leave the walk as my mum was failing fast. She has rallied and is still living.However, I treasure those few days in London where so many young people from different ethnic backgrounds wanted to hear about Jesus and even pray to accept him into their lives.
CORNISH TOWNS
During this year's Creationfest, Cornwall's Christian Festival was able to work with young Christians sharing their faith as we carried the cross in Bude , Bodmin, Newquay and Wadebridge. Newquay was especially powerful as we were confronted with whole groups of young people from different parts of the UK who wanted to know about the message of the cross. Listening to Christian teenagers seeking to share their story was thrilling!
PERSONAL NEWS
Am now divorced but on good terms with Debbie who appears happy in her new situation. Am very much at peace and am so in love with our Jesus. Am seeking to carry the cross as much as my health allows. I need to rest a lot and need God's strength to keep going.
Emotionally am enjoying a new Spring time in my life. I thank you with all my heart for your continued financial support and for your prayers.
Last week was in Truro with the cross. One young man told me that l had talked to him last year and thanked me for opening his heart to spiritual things. He left me having prayed to receive Jesus. He has been staying with a pastor friend of mine over on the Scillies. Another guy came over to talk about the cross. He was a drug addict and wanted prayer. I felt the presence and love of Jesus so strongly as we prayed together! I then sat with a homeless girl whose sister had committed suicide. She was not ready to receive Jesus but listened at length. Her friend joined her and spat out antagonism towards the cross……..darkness and light battling side by side! "Jesus, fill us with love for all, for those who accept and those who reject. Keep flowing through us as we seek to reach out to your children". Thank you all again! Lindsay