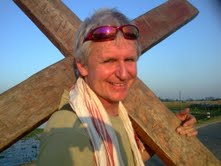 Hi!
I'm Lindsay and I live in beautiful Cornwall in the far South West of the UK. I'm married, have grown-up kids and enjoy being a grandad. For many years I've worked with churches of various denominations. I've been a member of the Camborne Elim Centre since 1982 and am currently serving on the Leadership Team.
I've spent over 30 years sharing Jesus on the streets, in pubs, clubs, Rock Festivals and in Secondary Schools. For about four years I worked on the underground network and on the streets of Inner City London seeking to help people find Jesus.
Since 1987 I've carried the cross (Arthur Blessitt Style) through many countries in Europe and Asia. I'm happiest when I'm talking to people about the good news of Jesus with those who have never heard. You can learn a bit more about this on my Walking With The Cross page.
I believe it's often our own fear and lack of confidence in Jesus that prevents us from sharing God's love on the streets. So I help people overcome this fear by using simple 'on-the-job' street evangelism training and plenty of encouragement. You can find out more about this on the KickStart Street Evangelism Training page.